In today's fast-paced society, speedy fulfilment of orders and production is a priority. If your business is expanding, then storage can become cluttered or overcrowded, restricting production capabilities and creating potential health and safety issues. Renting or purchasing a bigger warehouse and the move involved is a considerable investment, so why not maximise the space you've already got by adding vertical storage such as  industrial racking.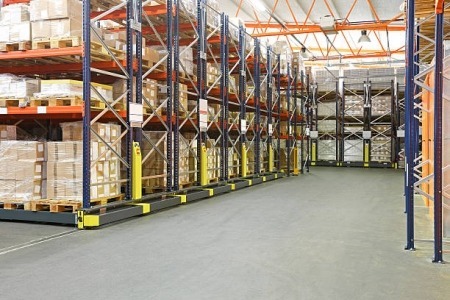 Safety
A company's duty of care and number one priority should always be the safety of its employees especially in spaces like warehouses. Although the increase in health and safety initiatives has meant the number of fatalities in the workplace has fallen dramatically since 1974, there were still 123 deaths last year in the UK, many of which were warehouse and manufacturing related. The onus therefore falls on business owners to ensure that their staff remains safe at work. Industrial racking systems are a very effective way to prevent accidents and keep employees safe, as they ensure a tidier workspace and prevent trip hazards by storing products or materials safely and efficiently on shelving. It also can decrease the chances of stock getting damaged which could be costly to a business.
Maximised space
In order to prevent expensive moves or renovations to your existing warehouse, looking at cost-effective solutions such as racking systems is the ideal way to improve your company's operations within your current property.  Industrial racking allows you to use the available vertical spaces of your warehouse and will dramatically increase your storage capacity. Making the most of the unused height in your building will allow you to maximise the available floor space, enabling the business to increase stock level capacity. For total maximisation of available space in your warehouse, you might also consider a mezzanine floor, where extra racking systems can be added, fully utilising all of the available vertical space and allowing for a huge increase in usable floor area which could vastly improve a business's capabilities, ultimately leading to potential business growth.
Increased efficiency
We've all experienced the frustration of losing our keys, wallet or phone and the time that is lost when searching for said items, and things can be just as tough in industry and warehousing. If your stock is stored in a haphazard method, or just inefficiently, then resources of time and energy are wasted trying to find specific materials or products when they're needed. Industrial racking systems ensure that your stock is stored in a way that makes retrieving them easier, thereby improving overall efficiency. Racking systems also allow you to keeping track of inventory more effectively, which will prevent over-ordering or finding that a vital product has run out without anyone noticing.
Better management
Having an effective industrial racking system in place will help improve the management of, and access to, a company's stock stored. This is especially important when it is date-sensitive and needs to be accessed in specific order, such as in the food and beverage industry. Industrial racking enables you to implement a rotation process preventing unnecessary waste. It is also incredibly robust, allowing heavier loads to neatly packed away. To facilitate better management of products and stock with your industrial racking solution, it is important to understand how your company uses its products and how they need to be moved around the warehouse, in order to install the ideal system. A product usage pattern is a good tool to help you purchase the right racking solution for your company's requirements. For further suggestions on which type of pallet racking system will best suit your warehouse or building, see our blog on What Type of Pallet Racking do I Need?
Other types of industrial racking systems
The type of racking system that you need will be as unique as the business that you run. Besides the various types of pallet racking mentioned in the blog above, heavy-duty racking is a perfect option if your business deals in products that are particularly large, heavy or in volume. They can be built in size-specific areas for extra heavy or bulky stock. Cantilever racking is another system that is designed specifically to manage large, heavy or awkwardly-shaped items. Many of these other racking systems can also be adapted to a wide variety of products that can be kept outdoors if the inside of your warehouse has reached its capacity. Many racking systems are weatherproof, as they're manufactured from durable metals such as aluminium, which can withstand adverse weather and won't rust. Paired with a canopy, many outdoor racking systems.
Whatever industrial racking system your operation requires, you will need a professional to help you design the right installation for your business. Advantage has years of experience designing and implementing successful racking systems for companies across the country. We have the expertise to create bespoke racking solutions that are both aesthetically pleasing as well as eminently practical, improving health and safety, production and organisation. We'll begin by discussing your needs and production processes in detail before bringing your project to life with a system that meets for your requirements and budget.
Get in touch today and one of the team will discuss your project with you.
Get your free,
no obligation quote today