Office spaces don't have to be cramped, dull, and drab. Here at Advantage, we specialise in offering you the best ways to transform your office into an area where your employees can enjoy going to and that feel comfortable, safe, and happy. Creating that benefits will become apparent including increased efficiency of tasks and jobs that are carried out each working day.
One of the best ways to achieve this is to create new areas using partition walls. They are an efficient, and a cost-effective way to create new spaces for different functions. With our team of experts, Advantage can help you create new meeting rooms, quiet zones, kitchens, toilets and work hubs with ease. All tailored and customised by you.
There are several partitioning designs to choose from. So, which design is the right one for your business? Let's breakdown the different options to find out what type of partition wall is most appropriate for your project.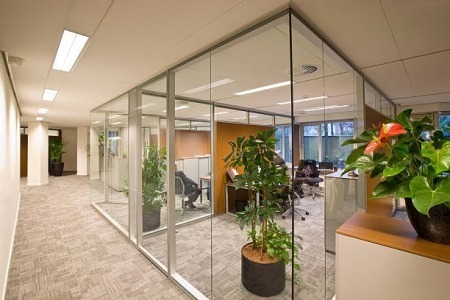 What types of partition walls are available?
There are several types of partition walls that you can choose from. These sleek non-permanent or permanent divider walls can be installed to section off parts of a building, transforming different areas and rooms to suit your needs. Advantage can provide you with four main types of office partition solutions: stud, composite, glazed and steel partitions. Partitions can also be created with other materials to suit your requirements.
Here are some of the most popular partition wall materials that you might choose for your office:
Steel Partition Walls
This being one of the most popular partition walls for industrial and warehouse spaces. Our steel partitions are available in single and double-skin steel, which makes them versatile and strong, and can be built up to eight metres high. These are a great way to create storage rooms, production areas or office spaces under mezzanines or warehouses where a more durable or heavy duty solution is required. Panels made from metal or metal mesh can be constructed in various sizes, which are easy to move and be taken down if necessary. Double skin partitioning allows for the addition of insulation glass creating a fully enclosed space that will offer improved acoustics and heat retention.
Glass Partition Walls
This is an ideal solution for more design lead spaces and is perfect for allowing natural light to flow through your office, increasing employee morale, and keeping the costs of artificial lighting down. They offer the feeling of an open plan space, whilst also providing employees or teams a more private or quite working are to limit disruptions.
This type of partition wall is made from sheets of glass, held and fixed together with a steel profile. You won't have to worry about anything breaking as all the glass we supply is reinforced. If you are looking to add a stylish and natural touch to your office environment, then glass partitioning is the perfect choice.
One of the most appealing things about glass partition walls is the design of the glass. With modern technology, you can achieve the sleek and stylish look you desire from adding printed company logos and designs, to frosted finishes creating the aesthetic feel your business would like to achieve from the new area.
Plasterboard or Drywall Partition Walls
If you are looking for one of the most cost-effective partition walls to use, then drywall partition walls are the best option. With their simple, yet effective, design, this type of partition wall is immensely versatile with very quick installation times. They can be the perfect tool for reshaping areas within a building for more privacy or by maximising creating meeting rooms or personal offices. There is great functionality that comes with the choice of plasterboard or drywall partitions, as well as the benefit of being quick to install. This type of partitioning also allows for greater insulation which can increase heat retention and providing better acoustic barriers. An ability to tailor décor in different areas to create variety of look and feels.
The Main Benefits of Partition Walls
The different types of partition walls can offer a wide range of benefits. Let's break down the key features:
Practicality – An amazing thing about these partition walls is the practicality and functionality. Who doesn't like the idea of customisation? The beauty of these different designs is that they can be as permanent as you want. Offices can change layout without huge upheaval; the ease of removal when needed, as well as dismantling and reassembly should it be required.
Aesthetics – A stylish office drastically influences your team's performance and morale. If they enter the office with aesthetically pleasing walls and good natural light, then they can channel that energy into their work. The designs you choose from the materials, styles, and coatings that we can supply, will leave your office looking like it's always ready for business.
Cost-Effective – One of the things you as a business owner may be worried about is the cost of setting up your office space. We are able to create designs to fit your budget, and a refurbishment of your office with partition walls is definitely cheaper than a costly relocation.
Light – While not all partition wall designs offer natural light, glass partition walls allow your office to be filled with natural, healthy light creating an airy atmosphere that will have a positive effect on your employees.
Privacy – You may be frustrated at not being able to filter out noise when conducting an important meeting, or perhaps your team needs some way of reducing the noise from adjoining departments or other business activities being carried out. There are plenty of choices when it comes to setting up permanent or temporary partition walls to reduce loud acoustics and stop distracting background noise.
Choose Advantage
No matter what the vision, Advantage specialises in bringing these to life. Creating or adapting that space to meet your business's requirements. With all these solutions there are a number of design considerations such as cost, acoustics, temperature control and building control regulations such as fire rating. Our team has extensive experience in the transformation of spaces and will work with you from design through to installation ensuring you get a compliant solution with the finish you want and on budget.
Contact us now to discuss your partition wall project with one of our expert team.
Get your free,
no obligation quote today