Advantage supplies and installs mezzanine floor solutions for a variety of Derby businesses. When you need to optimise space, expand and create new storage, or work spaces, for your company's requirements, Advantage can advise, design and fit your Derby business with the perfect mezzanine floor installation.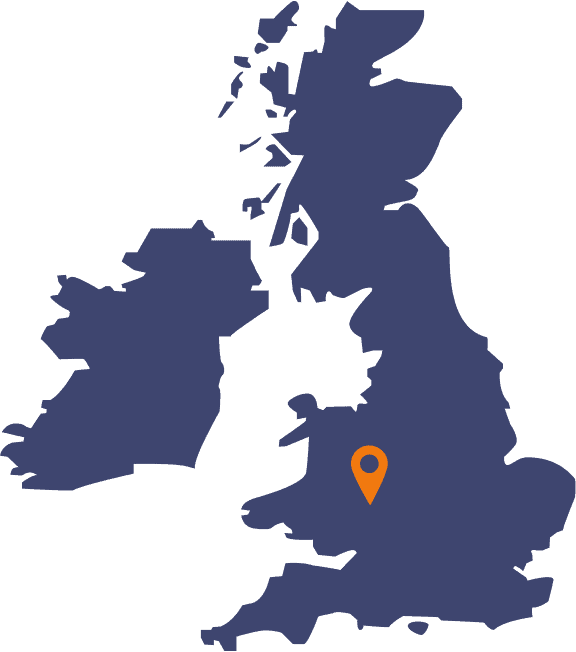 Mezzanine floor installations in Derby
Mezzanine floors are intermediary storeys that, in commercial or industrial buildings around Derbyshire, may double or even treble your usable space. You can enlarge your business by creating a mezzanine floor, maximising the space without spending beyond your budget.
You might need a mezzanine to create additional storage space, a breakout area, a quiet space, or a private meeting room. Advantage Storage and Handling, based close by in Worcestershire, is a recognized installer and supplier in the Derby area that can fit mezzanines to the highest standards. We use the latest design concepts and quality materials in order to achieve the space you want, while adhering to all fire, safety and building regulations to protect your business, staff and clients. With a broad range of mezzanine solutions for office, warehouse, and industrial storage in Derby, we are sure that we can find something to meet both your vision and budget.
Our mezzanine floor options for Derby
Office mezzanine floors 
An office mezzanine floor for your Derby business is the answer to creating additional space for your office staff or for production and storage. By maximising the vertical capacity of your warehouse's space by installing an office mezzanine floor, you will remove the need for an expensive relocation. Due to its adaptability, an office mezzanine floor can be rapidly constructed with minimum disruption to your business's ongoing operations. An office mezzanine for your Derby company will reduce energy costs, free up floor space for industrial operations and can provide options for alternative spaces for restrooms and meeting spaces.
Warehouse mezzanine floors
Your business can gain a significant amount of additional space for production or storage by installing a warehouse mezzanine floor for your Derby business, and the process is simple and cost-effective. By adding a second level in the empty vertical spaces of your warehouse, mezzanine floors can significantly add to the size of the current floor area. As they are temporary structures, they can be moved and reinstalled if necessary and generally won't need planning permission – a mezzanine floor supplier can advise on the legalities. They are the most budget-friendly solution to increase your manufacturing capacities.
Mezzanine

pallet gates
Safety pallet gates are the best way to guarantee that stock or workers don't fall from the edge of a mezzanine floor installation, making them an essential safety component of a mezzanine floor in a warehouse. Mezzanine pallet gates in your Derby company ensure that there is never a situation where an exposed edge is a problem, keeping the workplace safer for all. Our mezzanine pallet gate solutions for your warehouse will adhere to building and HSE rules for maximum safety.
Storage mezzanine floors 
Are your company's daily activities being affected by a lack of storage? The solution is a storage mezzanine floor for your Derby business. Your goods will be safely stored out of the way of production and other company activities by installing a mezzanine level where you can create additional storage solutions, safety railings and pallet gates. With our storage solutions, you can effectively double a significant portion of the floor area in your warehouse and utilise all of the existing flooring to its full potential.
Why Derby businesses need mezzanine floors
Is your business expanding and needing more space? Are you navigating supply chain issues and need more storage? A mezzanine storey is an excellent, low-maintenance solution to increase the value, space, and number of floors in your industrial or commercial building. Advantage can assist you with your mezzanine floor installation in Derby and beyond, whether you need to add an additional level of storage space within an industrial unit, or you need to utilise excess headroom in order to expand your offices. If you want insight into how a mezzanine floor office could revolutionise your Derby business, check out our blog for inspiration.
For your Derbyshire company, installing a mezzanine floor can have a plethora of advantages. In addition to maximising space, it will also add a touch of style to your place of work and make the most your existing building without a costly relocation. Read our blog to find out more about the benefits of mezzanine levels.
Advantage – your Derby mezzanine floor experts
As an established business with over 25 years' experience and many satisfied clients, you can be sure that we are the company to trust with the installation of your new mezzanine floor. We have a skilled design team who will work with you to ascertain your requirements, measure your Derbyshire premises and create your design with CAD drawings to bring your plans to life. In order to minimise disturbance to your productivity, we will complete as much of the work around your business hours as possible.
Advantage has the knowledge and expertise to handle the complexities of building regulations and CE certification. We can help to establish if a fire rating is required, as well as any safety access features you may need to install in order to prioritise the safety of all who will use the building and the mezzanine installation.
For your mezzanine floor installation to transform your business, Advantage offers a full turnkey solution. Our experts can assist in implementing every component of your Derby mezzanine floor installation. From initial consultation through to constructing not only the floor itself, but also office fixtures, fittings and furniture, to the post-installation maintenance, Advantage will support you every step of the way.
Browse our other locations where we offer mezzanine floors
If you have any questions or want to discuss any of our services, get in touch using the form below. Our experts will happily talk you through the different options available and can give you a free quotation.