Mezzanine Floors Gloucestershire
Advantage has been in the business of designing, supplying, and installing mezzanine floors in and around the county of Gloucestershire for over 25 years. With extensive knowledge and experience of industrial and commercial fit out, we pride ourselves on the quality of products and services we deliver. Talk to one of the team today to see how we can help you with your mezzanine floor project and start transforming your workspace.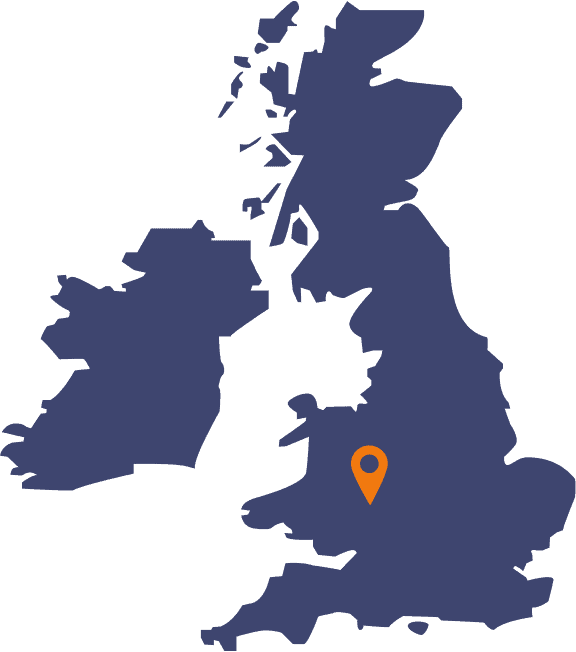 Mezzanine floor installations in Gloucestershire
A mezzanine floor installation is an ideal solution to give your expanding business room to breathe. Installed between the floor and roof of a building, a mezzanine is a cost-effective way to create extra space for your Gloucestershire business. Mezzanines are considered a semi-permanent modification, so they don't usually require planning permission and can be installed in a very short space of time to give your Gloucester based company its much needed extra room you require.
Located in Worcester, Advantage is ideally situated to fit your new mezzanine floor installation in Gloucestershire, designing, supplying and fitting to the highest specifications. Whether you need extra storage space, an extra breakout room or a bigger office area for your growing team, we can supply a mezzanine to suit your company's demands.
We offer stand-alone solutions and a full turnkey service, working with you from design right the way through to supply, installation and commissioning. We handle all your building regulations and compliance, including dealing with fire safety if it is required, ensuring your mezzanine meets your requirements and budget.
Our mezzanine floor options for Gloucestershire
Office mezzanine floors 
The solution to adding more space for your office staff, and thereby manufacturing and storage area, is an office mezzanine floor. Your Gloucestershire company's office mezzanine will lower energy expenses, open up floor area for manufacturing processes and offer additional possibilities for restrooms and meeting spaces. You will be able to avoid an expensive relocation by making the most of your warehouse's vertical space by adding an office mezzanine floor, and as they are easily installed and with the least interference to your company's processes, you can enjoy the benefits quickly. 
Warehouse mezzanine floors
Installing a warehouse mezzanine floor for your Gloucestershire company can give you significantly more room for manufacturing or storage, and the process is quick and affordable. Mezzanine floors can greatly increase the size of the current floor area by constructing an additional level in the empty vertical spaces of your warehouse. They are able to be removed and reinstalled if necessary as they are temporary structures that don't generally require planning permission; a mezzanine floor supplier can provide detailed advice on this area. They are the most cost-effective method to boost your company's manufacturing and production capabilities.  
Mezzanine

pallet gates
The best approach to ensure that stock or workers don't fall from the edge of a mezzanine floor installation is with safety pallet gates, which are a vital part of the safety system for a mezzanine floor. Your Gloucestershire company's mezzanine pallet gate makes sure that there is never a time when an exposed edge of the mezzanine is a hazard, keeping the workspace safe for everyone. For maximum safety, our mezzanine pallet gate solutions for your warehouse all follow building and HSE regulations.
Storage mezzanine floors 
Are the regular operations of your organisation being hampered by a shortage of storage? A storage mezzanine floor for your Gloucestershire company is the answer. By adding a mezzanine level where you can create additional storage solutions, safety railings and pallet gates, your stock will be securely stored away from the manufacturing processes. With the help of our storage options, you can easily double a sizeable section of your warehouse's floor space and make the most of all your current flooring.
Why Gloucester businesses need mezzanine floors
Is your Gloucestershire business expanding and in need of more space? The ideal solution is a mezzanine floor to allow you room to maximise your company's footprint. By adding an extra floor within the building you already own, you can add up to 50% more floor space without the hassle of having to undertake a costly relocation. A mezzanine installation will enable you to extend your working area, add an extra office, create more storage space and give you scope for greater efficiency in working and production.
See our blog on the benefits of mezzanine floors for further details.
Businesses in Gloucester, like your own, are looking for ways to maximise available space in their existing location, without having to deal with a costly move. A mezzanine floor is an ideal way to achieve this goal, at a very competitive price. Conveniently based in Worcester, Advantage is able to complete your mezzanine floor project quickly, at a time that's convenient for you to minimise disruption.
Advantage – your Gloucestershire mezzanine floor experts
As a company, our team has over 25 years' experience working in the industry – we have actively worked with a wide range of market leading companies to design solutions to meet growth or adaption needs. Our expert design team spends the time to clearly understand your vision, including coming to you to measure your Gloucestershire premises enabling us to mock up a design plan so you can grip to the final result. When you are happy, we will then complete the installation around your business hours to ensure the least disruption to your workflow.
With the expertise to navigate the intricacies of building regulations, we can help to determine if fire-rating is needed, in addition to supplying all the safety access features you need to install to prioritise the protection of all those using the building and mezzanine.
Advantage offers a full turnkey service for your Gloucestershire mezzanine installation. We meet with you to plan and design your new floor and arrange the supply and installation of all parts of your mezzanine, including electrics, plumbing all the way through to final furniture and fittings. We also provide expert post-installation maintenance. Advantage will be with you every step of the way.
Browse our other locations where we offer mezzanine floors
If you have any questions or want to discuss any of our services, get in touch using the form below. Our experts will happily talk you through the different options available and can give you a free quotation.