Mezzanine floors are a cost-effective and quick way to improve efficiency of a business through better use of existing space. Which in today's corporate world, there is an increasing pressure for businesses to stay ahead of the curve. Companies are on a never-ending mission to improve their day-to-day operations, staff productivity, and overall efficiency. So, it would seem odd to suggest that something as simple as installing a mezzanine floor could make such a significant impact.
The reality, however, is exactly that.
The likelihood is that you have already walked across a mezzanine floor – a free-standing structure that creates an additional level between the main floor and the ceiling of a building. In fact, mezzanines are widely used by a variety of businesses to make their spaces feel more welcoming. Just imagine how crowded some of your favourite retailers and restaurants would feel if they hadn't taken advantage of their underutilised vertical space!
How can a mezzanine floor improve the efficiency of your business?
Maximising space:
By adding mezzanine flooring, businesses can create extra space without needing to conduct any serious construction work. A brand-new floor of almost any size can be integrated into an existing building, expanding the available floor space considerably. These are also not just limited to one level and can two additional floors if the business's demands required it.
Increased production:
Whether you're looking to expand your production capacity with additional equipment or staff, a mezzanine floor allows businesses to simply do more, through increased storage space, offices or even just work space. Increasing potential order and distribution capacity, through to hosting of meetings or just new team member to handle extra workloads.
Reduced costs:
Even a multi-tiered mezzanine installation is a much more budget-friendly way of expanding your workspace and business operations where space allows. It removes the need for an expensive extension or the purchase additional sites which can also take a lot of time.
Increased productivity:
Additional space gives companies the freedom to expand and scale up operations quickly, without waiting for lengthy planning permission or acquisition processes. Not only can mezzanines accommodate extra staff, equipment, and products, but they also provide a more comfortable workspace and give employees the freedom to move. There's nothing worse than working in a cramped and crowded space, so the installation of a mezzanine floor can lead to increased job satisfaction and greater work output as a result.
Where can a mezzanine floor be installed?
One of the many benefits of mezzanine flooring is versatility. Mezzanine floors are used by wide range of companies and can be installed in a variety of building types as long as space allows, including:
Production and manufacturing areas
Retail spaces
Mezzanine floors are designed for several purposes and are custom made to meet the specific needs of your business.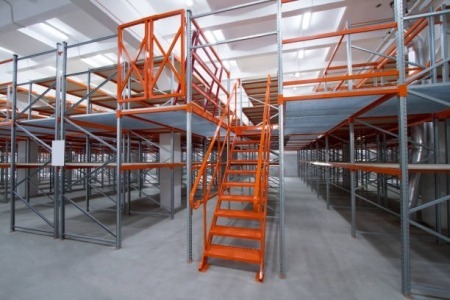 Additional benefits of a mezzanine floor
Flexibility – Mezzanine floors are uniquely flexible, offering the potential for multifunctional areas, both above and below. These spaces can be used for additional storage, meeting rooms, office space, and much more.
Easy construction – In addition to their flexibility, mezzanine floors are easy to construct without causing significant disruption to your workforce or operations. They can be assembled, dismantled, and moved quickly, meaning your new space can be ready to use in no time.
Creativity – A mezzanine floor can be as bespoke and unique as your business, from concept and design through to the final fit-out, including furniture and wall decals. Your mezzanine floor can reflect your culture and personality.
Increased energy efficiency – Installing a mezzanine floor is a great way of reducing the energy costs incurred by your business. Smaller, enclosed workspaces minimise the area that needs heating and increases retention, while also helping to reduce CO2 emissions.
What should be considered before installing a mezzanine floor?
When planning the installation of a mezzanine floor, it's important to be aware of all of the factors that will be considered during the design process, including health and safety, and all relevant regulations.
What are the legal and building regulations involved?
How much weight will the floor need to support?
How many access points are required?
What will be the lighting and electrical requirements underneath the mezzanine?
Whether you're looking to expand your business operations, or are simply in need of greater storage capacity, extra space typically comes at a premium. So, if the ground under your feet doesn't hold the answer, then it's well worth looking up.
Mezzanine floors from Advantage
You're safe with Advantage. We've been providing clients across the UK with top-quality mezzanine floors for over twenty-five years, establishing ourselves as one of the UK's most trusted mezzanine floor installers. We pride ourselves on the quality of the service and products we offer, and will work with you every step of the way to ensure you're happy with your space transformation.
Get in touch today to discuss your mezzanine floor plans with a member of our expert team.
Get your free,
no obligation quote today