The type of pallet racking you need will depend on factors such as number of pallets, size of pallet, the frequency of stock turnaround and the level of access needed. Other considerations like the weight that the racking can hold will depend on variables such as the height of the racking, the spacing between the beams and the actual beam sizing.
What is pallet racking?
Pallet racking in its simplest form are a type of warehouse or industrial space shelving solutions for storing a wide variety of products. They are an incredibly versatile type of large scale shelving units designed for distribution, storage or material and product management businesses. The racking itself consists of vertical steel frames, connected by horizontal beams to create a bay area, to which pallets can then be loaded and stored.
Advantages of pallet racking
There are several advantages of choosing pallet racking for your business storage needs. However, it is important to ensure that you select the system that best suits your site and the items that you will need to handle. Here are just some of the major benefits of pallet racking.
– Saves time and energy
Correct storage of stock means that time and resource isn't wasted searching for items. It also makes keeping track of inventory much easier, as you can quickly account for materials or products when needed. The bottom line is correct pallet racking can improve your company's productivity and operational efficiency considerably.
– Easier and safer
As mentioned above, it's easier to locate the stock you need more quickly when you have a solid storage solution. This will also allow stock to be retrieved more easily and safely. Furthermore, it will improve health and safety throughout your warehouse overall, proving beneficial for all staff by ensuring that there are fewer obstacles on the floor, thus eliminating hazards and mitigating the risks of tripping or other injuries. We supply pallet safety gates to ensure the safety of your staff when operating pallet racking.
– Frees up space
Space is a valuable commodity in any warehouse and especially where companies have a logistics focus such as distribution and manufacturing.  Pallet racking maximises their space available by creating vertical storage, thereby freeing up floor area for operations or allowing for greater storage capacity.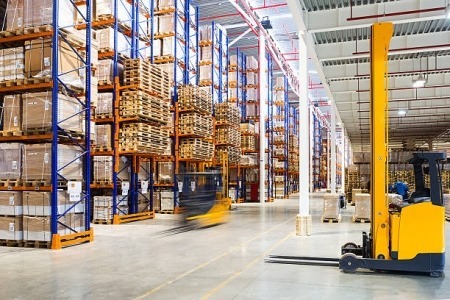 Types of pallet racking
There are a number of different types of pallet racking, each with a specific application. Choosing the best type of racking for your business is essential. These are the main types of pallet racking:
1. Adjustable racking
This is the most common and simplest type of racking designed to store pallets. Shelves are accessed using forklifts, which are used to add or remove stock, by running parallel to the rows of racking. The number of racks will depend on the size of pallets being stored, whether they will be UK or EU pallets, and the volume the racking will need to hold.
2. Very narrow aisle (VNA) racking
As the name suggests, this type of racking reduces traditional aisle widths from around four metres to approximately two – meaning that there is a more efficient use of space within the warehouse. Nevertheless, you will need a specialised narrow forklift or turret truck in order to access the goods on the shelves. This is a great solution for maximising efficiency when high volumes of goods are moving in and out of the system.
3. Double deep racking
Double deep racking systems have been modified to increase storage capacity. They operate on a "First In, Last Out" (FILO) system using guide rails on the upper levels and beams on the lower ones. The main advantage of double deep racking is increased storage and a system that works well with order picking machines. The disadvantages include reduced selectivity and less direct access to all loads.
4. Drive in and drive through compact systems
Both of these are high-density racking systems that maximise available storage space. There is no need for work aisles with these as the forklift enters the racking system directly for loading and unloading. The drive in system works on a LIFO ("Last In, First Out") method with a single entry and exit aisle. Meanwhile, the drive through system operates on a FILO method with an access aisle for loading and the opposite end for unloading.
5. Mobile racking
As suggested by the name, mobile racking systems works with racks that are built on wheels or a mobile base, guided on rails set in the floor. This enables the racking shelves to be moved laterally in order to open up aisles, allowing forklifts to enter. Mobile racks are ideal for cold storage where their density, when positioned side by side, helps keep cooling and energy costs lower.
6. Carton and pallet flow racks
With shelves on a slight decline, these systems utilise both gravity and rollers to allow the product to move forwards to the front of the shelf where it can be picked. They operate on a FIFO ("First In, First Out") inventory control method, where pallet racks can be loaded from the back and picked from the front, meaning increased use of available space and smooth work flow.
7. Push-back racking
Push-back racking systems operate on a FILO inventory method, where pallets are placed on low-friction trays that move backwards and forwards on rails. The rails are on a decline, so that when the front pallet is removed, the next in line slides forward. Allowing two to four pallets to be stored behind the front one, it works similarly to a chilled drinks or snack machine and is ideal where medium- to high-density storage is required.
8. Cantilever racking
Perfect for long items such as pipes or lumber, cantilever racking systems use long, horizontally extending arms attached to central towers to facilitate unobstructed access to long-dimensional materials, such as those used in the building trades.
As you can see, the type of racking selected will depend on the size and volume of the products the business wants to store, as well as the space available in the warehouse. It is also important to consider things like initial installation costs, the equipment required to access the pallet racking, the frequency with which your stock is likely to rotate. As well as regular racking inspection as part of duty of care to everybody that works and enters the warehouse or industrial workspace.

How Advantage can help with your pallet racking needs
Advantage has extensive experience in designing and installing pallet racking systems for businesses of all shapes and sizes. We work closely with all our customers to make sure you find the right solution for your business. We start by getting to grips with the unique demands of your business, taking precise measurements in order to design you a bespoke racking system that will be both practical and aesthetically pleasing. If you have exhausted all your available internal space, we can also offer external pallet racking, complete with canopies to protect your stock from the elements. We will always aim to minimise any potential disruption to your operations throughout the project.
Get in touch today to start transforming your space or discuss how our pallet racking solutions could help with your storage and handling requirements and improve your company's productivity and efficiency.
Get your free,
no obligation quote today