Also known as false or drop ceilings, suspended ceilings are composed of a metal grid that hangs from the roof or floor above. The compatible panels are then placed on the grid framework beneath to create an additional layer between the room, space, or floor above.
Installing a suspended ceiling system for your commercial building can help to create a more intimate feel, improving the aesthetic of the room by concealing things like services and wiring to transform the space. Additionally, for spaces that require specialist lighting or flexibility to adapt the design later, a suspended ceiling can be the perfect installation.
Who uses suspended ceilings?
They are often used in office spaces, restaurants, and mezzanine floors, where partitioning will be used to create internal areas, as well as other public buildings with high ceilings. They are also ideal for commercial kitchens, bathrooms, and showrooms as they provide soundproofing and temperature control, and can be easily removed for cleaning or maintenance if necessary.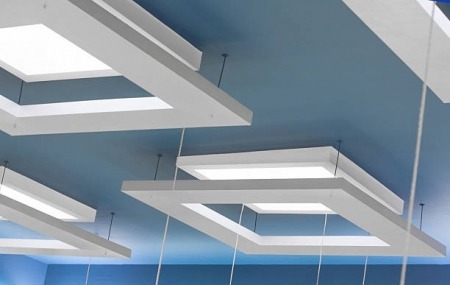 The benefits of their installation
Transform the space
Suspended ceilings are a great way to upgrade a commercial space and make it look modern. They can transform your area or room offering a wide range of tile finishes and lighting options to help re-vamp your workspace without expensive refurbishment costs.
Enhance lighting
They are a great way to add additional lighting in your space. They are designed to help distribute light more evenly and conveniently than traditional ceiling systems, giving you greater control over the type of atmosphere you create in your workspace.
Soundproof
Installing a suspended ceiling can help to reduce noise levels, making the space more comfortable for employees or customers. This is because they act as a barrier between the room you are in and anything above, which dulls the noise. Additional acoustic insulation can be specified for spaces that might require higher levels of privacy or to minimise disruption across different areas.
Energy-efficiency
They also offers several benefits when it comes to temperature control and energy efficiency. Allowing for the installation of insulation helps to keep the room warm in winter and cooler during hot summer days.
Improved safety
Ceiling systems from Advantage are fire rated and can provide additional safety if a fire were to break out within your building designed to allow time for occupants to evacuate and rescue services to carry out rescues when required. The tiles used are fire retardant, adding safety in the event of a fire and withstanding the fire from 30 minutes to 1 hour depending on the customer's specification.
This means your ceiling can buy you valuable extra time in order for the building to be evacuated properly.
Cost-effective
Not only are they a cost-effective way to adapt a room, but they can also assist with further savings. For example, they allow for the installation of insulation to help reduce heat loss and retain the temperature of a room. This can save money on heating and energy bills throughout the year. They also allow for easy access to services for maintenance and cleaning, helping to reduce labour costs in the unlikely event of issues.
Suspended ceilings for commercial properties
For commercial premises, a suspended ceiling can be introduced for a variety of industries. Warehouses can benefit massively to transform the space and create a more effective office environment. Other commercial premises such as car dealerships and large open rooms that require additional meeting rooms, offices, and desk areas can benefit from a suspended ceiling and mezzanine flooring system.
Working with Advantage
Overall, these systems offer a cost-effective way to transform your commercial or industrial space. As well as creating an improved aesthetic, they are also perfect for soundproofing, temperature control and energy efficiency. With the right partner, a suspended ceiling can transform your space or provide a very practical solution that doesn't have to break the bank.
When working with Advantage, you'll benefit from the experience of a dedicated team with over 25 years of industry experience. For more information about what we can do for your business, you can browse our solutions or for more information, please get in touch.
Get your free,
no obligation quote today