Advantage Storage and Handling has been designing and installing commercial ceiling solutions, including suspended, self-supported and plasterboard ceilings, for over twenty-five years. As expert ceiling installers, we work with you to design and fit the exact commercial ceiling your building needs. 
What are the benefits of installing a new ceiling system?
Although we may not think about them too much, ceilings play a key role in ensuring that our spaces are fit for purpose.
They can help to control a myriad of environmental factors, such as light and sound levels. When working in an office, you don't want loud noises to travel easily between floors, so having a ceiling with adequate sound insulation is a must.
Likewise, you want to make sure that any type of building has sufficient temperature insulation to retain heat in winter and stop things from overheating in the warmer months. Ceilings are one of the most effective heat flow barriers available and can even help to control indoor moisture levels to prevent mould.  
Innovative commercial ceiling systems
We often overlook our ceilings when it comes to design. However, they can also play a significant role in achieving your desired aesthetic.
Suspended ceilings are a great way of hiding any unsightly cables, for example. With a variety of ceiling materials and finishes to choose from, we can ensure your new ceiling will match the atmosphere of the rest of your room.
All of our ceilings undergo rigorous safety checks to ensure they are compliant, making your building safer and perhaps more sustainable, too.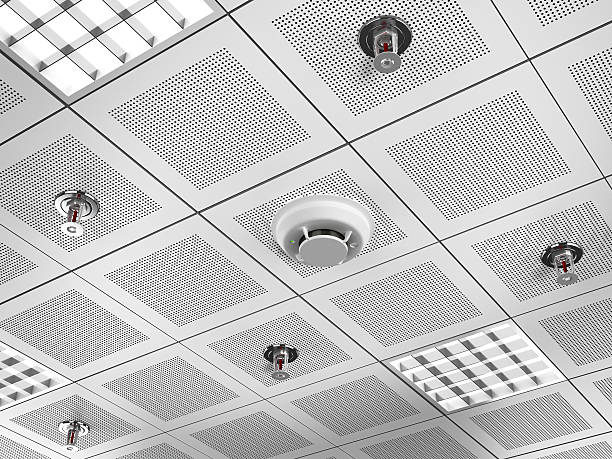 Factors to consider when choosing your new ceiling system
We put so much thought into the rest of our buildings, so why stop at the ceiling? They can make a huge difference in terms of safety, efficiency and aesthetics and are a key aspect of any renovation. However, there's a lot to consider when choosing the right ceiling solution. Our experts are more than happy to guide you and answer any questions you might have – but for now, here are some key factors to consider when making your ceiling choice. 
The main thing to think about is location. For example, offices would benefit from a commercial ceiling with enhanced acoustic properties to assist with noise control and ensure that private conversations don't travel too far. This is particularly true in large, open-plan spaces. Meanwhile, cleanliness will be the priority for healthcare organisations and other controlled environments. As such, bacteria-resistant tiles that are easy to clean and disinfect would make a good choice.  
Commercial kitchens would also benefit from additional, humidity-resistant properties, to prevent mould and ensure compliance with health and safety standards.  
As well as accommodating different design preferences, choice of material has a huge impact on ceiling performance. Each material comes with its own sound absorption, light reflectance, humidity resistance and fire performance rating, as well as being ranked on durability and sustainability. We have plenty of options to choose from, whether you're looking for wooden panels, ceramic or metal tiles, mineral fibres, felt, or even translucent ceiling materials for a more modern, open look. 

The three main types of commercial ceilings

Suspended ceiling systems
Suspended ceilings are a great way of hiding unsightly pipework and electrical wires. They're moisture resistant, which helps with hygiene, as well as adding the option for further insulation to your property, which helps to reduce your energy bills.  

Self-supported ceilings are a great safety feature, consisting of plasterboard panels fixed to a steel or timber frame. 

Commercial ceiling systems
We pride ourselves on providing the best ceiling solutions on the market. We can accommodate a range of different practical and aesthetic requirements, making sure that your commercial ceiling is perfect for your business and what you do. 
Learn more about ceiling systems from Advantage